We have developed many parts for a customer in the radiation detection field. There is no better situation than a customer and a manufacturer having a meeting of the minds about what is efficiently made, and what will function well. This extended to designing a case for a dosimeter, a latch on the back of the unit's battery compartment, a way of attaching a detector to the end of a telescoping pole, and many other design and machining projects, including a unique design for a no-slip pocket clip.
We developed a biopsy drill for taking core samples of animal heart tissue after being approached by a researcher who wanted one of his own after reading of one similar in a journal in his field. We designed an inexpensive rotary, non-reactive seal between a drill shank and a high-speed pneumatic drill. Interchangeable drill tips of different diameters were designed and methods for sharpening them devised.
Dual stainless tubing and clear acrylic or sometimes a Polysulfone interface attached to the drill and a container of liquid Nitrogen caught the sample, instantly freezing it.
Later, we designed a way of freezing a sample directly onto an aluminum strainer for more delicate brain tissue.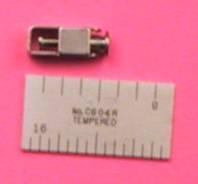 For this same customer we re-engineered a snap apart artery clamp which was implantable. They were adjustable with a tiny screw, had a 316 stainless body, and a "U" shaped spring which clicked into place when assembled. We devised ways of making this spring and sold hundreds of the assembled units.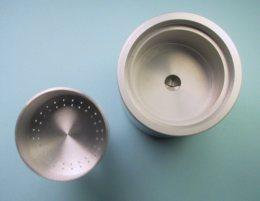 For another medical customer in a Boston hospital, we made metallic replicas of knee parts for them to measure walking force on limbs and joints. We made a replica of a heart pump design for the original inventor to be put into an exhibit in the Smithsonian.
We designed and patented our own product, a Dial Indicator Pin Chuck, with a complete overview of utility, manufacturing methods, packaging and marketing. The Pin Chuck uses gage pins from a gage pin set as dial indicator points.
A customer wanted a high-pressure device with seals which could withstand over 6000 PSI. This included sourcing, finished drawings, and manufacturing. The project was a success, and we are currently manufacturing the product for them.
We designed an adjustable volume syringe pump for a customer, with pneumatic actuation for interchangeable plastic syringes, manufacturing or purchasing all the associated parts for a production run. This involved manifolded pneumatic components, a stainless housing, silk screening of the front panel, and assembly of the entire unit.