Steels we have machined:
1010, 1018, 1020, 1141, 12L14, 1215, 4140, 41L42
Oil hard type 01 tool steel
Air hard type 02 tool steel
Pure iron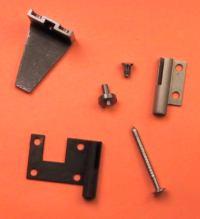 In general, 1018 cold drawn steel is the most commonly machined bar stock and has very good welding properties. There are some leaded steels such as 12L14 and 41L42 which though much easier to machine can have poor weld characteristics. Avoid them on welded assemblies. 4140 is a hardenable and tougher grade. 41L42 is its free machining version.
Oil hard type 01 tool steel is a very tough and stiff steel even in its unhardened state. It has a tendency to expand, shrink or distort when it is hardened. If dimensional stability is desired before and after heat treating, type 02 is more stable, but quite a bit more difficult to machine. Keep in mind that welding of tool or high carbon steels can either anneal or harden them and possibly cause embrittlement at the weld.
Pure iron is desirable for electro-magnets when residual magnetism might be a problem. It is a gummy, stringy material to machine, and rusts very easily.
Parts made of all of the steels can be shipped with a light film of oil or other rust preventative if needed.