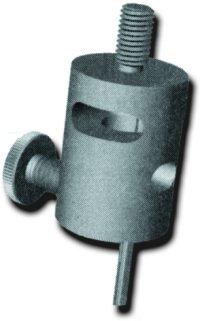 Part # 100.69102303
The "Dial Indicator Pin Chuck" was developed to save time by avoiding the need to make or modify dial indicator contact points for measuring small holes and slots. It provides a quick and easy method for measuring these features using gage pins, items found in all machine shops and quality control departments.
Accepts a wide range of gage pins from .010" dia. to .135" dia. to accommodate many hole diameters and slot widths.
Eliminates making contact points saving valuable production and inspection time.
Thumbscrew locking mechanism provides fast changeover.
Internal V-block design ensures parallel gage pin positioning.
Universal 4-48 male thread fits most dial indicators.
Very short overall length saves available indicator stand height.
Pays for itself in one use.
They are sold by the pair for $30.95, plus $20.00 for ground shipping in U.S.
Pair of Pin Chucks - Part # 69102303
Click the "Add to Cart" button above, to purchase online with Visa or MasterCard.
(Via PayPal. You don't need to set up a PayPal account if you don't have one.)
Ask for the "Pin Chuck"