Luer Ring Gage
Part#100.12091002
Price is $75.00 each, plus $20.00 for ground shipping in the US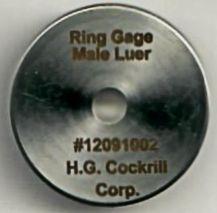 Ring Gage for checking the length of Male Luers. Using this gage will assure conformance to ISO 594/1 and ISO 594/2 standards, since the gage is made slightly inside the allowable tolerances.
There are two steps on the front of the gage. One is for rigid material measurement, and the longer one is for semi-rigid, such as polyethylene. In both cases, the end of the gage is the maximum insertion length from the inscribed back of the gage. Gage is suitable for measuring a Luer taper before a locking cap is installed, but not after the taper is obstructed by the cap.
Ring Gage is made of stainless steel. To avoid damaging the taper, blow out grit or shavings and then use a Q-tip to clean out when necessary. Because it is so reasonably priced, replace the gage when damaged.